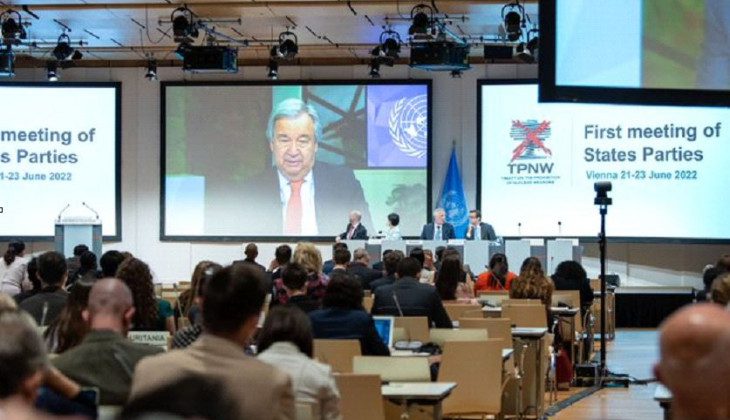 Lecturer of the Department of International Relations, UGM Fisipol, Muhadi Sugiono, attended the Meeting of the States Parties, Treaty on the Prohibition of Nuclear Weapons (TPNW) in Vienna, 21-23 June Austria. Muhadi Sugiono was present at the meeting as part of the activists of the International Campaign to Abolish Nuclear Weapons (ICAN), an international civil society coalition organization for the abolition of nuclear weapons, which won the 2017 Nobel Peace Prize.
According to Muhadi, this meeting has significant meaning because it took place during international political developments where there is a possibility of nuclear war. There is a war between Russia and Ukraine going on in Europe, the rivalry between the United States and China in the Asia Pacific, and tensions in the Middle East and the Korean Peninsula. "All involve countries that have or indicate having nuclear weapons," said Muhadi on Monday (27/6).
Muhadi said this meeting reflects the presence of TPNW as an important part of the international nuclear regime to abolish nuclear weapons. Some countries are not state parties, including those that oppose the TPNW in the meeting. It shows that we cannot ignore the existence of TPNW. One of the countries that rejected TPNW claimed that their country opposed TPNW, but its policies were very much in line with the TPNW.
The results of the meeting showed that the participants conveyed a strong message and a high commitment from the countries that managed to overcome the pessimism that TPNW would not survive because it was not supported by big countries and nuclear weapons owners. "The meeting not only resulted in a declaration affirming the commitment of the states parties to fight for the realization of a world free from nuclear weapons, but also all countries become parties to the TPNW, and all nuclear weapons are destroyed," he said.
Source: https://www.ugm.ac.id/id/berita/22637-dosen-ugm-hadiri-pertemuan-pakta-pelarangan-senjata-nuklir-di-wina-austria