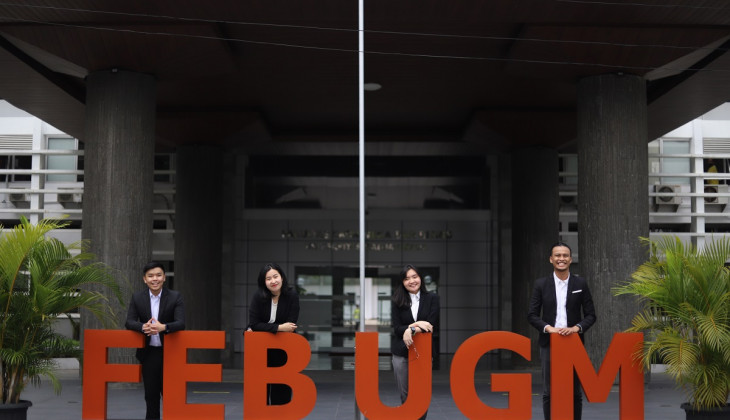 UGM has made another international achievement. The 'Critical One' team consisting of Alexander Tjhung (IUP Management 2018), Erica Lesmana (Accounting 2017), Shania Angelina (Management 2018), Moh. Andhika Satria Perdana (Accounting 2017) won second place in the HSBC/HKU Asia Pacific Business Case Competition 2021. This business case competition was held virtually from 30 May to 3 June 2021 by The University of Hong Kong (HKU).
After passing the national selection round in February 2021, UGM represented Indonesia at the HSBC/HKU Asia Pacific Business Case Competition 2021. Through the guidance of the FEB UGM coaching team and HSBC Indonesia, Critical One managed to complete a business case about "Puma's Maya: South East Asia's First Virtual Influencers" with the strategy title "Embrace and Engage: Maya's Travel Diary and HelloMaya!" in 6 hours.
"Of course, the support from the Faculty of Economics and Business (FEB) UGM during preparation and the competition is also the main motivation for the team to give the best performance to make Indonesia and UGM proud," said Erica Lesmana, Friday (4/6).
The judges in this competition are direct business practitioners: Amit Sutha (EVP, Executive Director of Global Business at Mediabrands Content Studio), Suresh Balaji (Chief Marketing Officer-Asia Pacific), and Stuart Milne (Chief Executive Officer at HSBC Malaysia).
To reach the final stage, Critical One beat teams from other prestigious schools from 19 different countries, including Yonsei University, Thammasat University, National Taiwan University, Shri Ram College of Commerce, Ateneo de Manila University, Ritsumeikan Asia Pacific University, RMIT University, Singapore Management University, University of Belgrade, University of Toronto, The Open University of Hongkong, and others.
"We are very proud of the achievements of the Critical One team from FEB. This is proof that even though we are going through a pandemic, it does not decrease the courage and enthusiasm of our students to make achievements. Hopefully, this achievement will inspire other FEB UGM students," said Prof. Mahfud Sholihin, Deputy Dean for Academic and Student Affairs FEB UGM.
Source: https://www.ugm.ac.id/id/berita/21198-critical-one-raih-juara-2-pada-hsbc-hku-asia-pacific-business-case-competition-2021