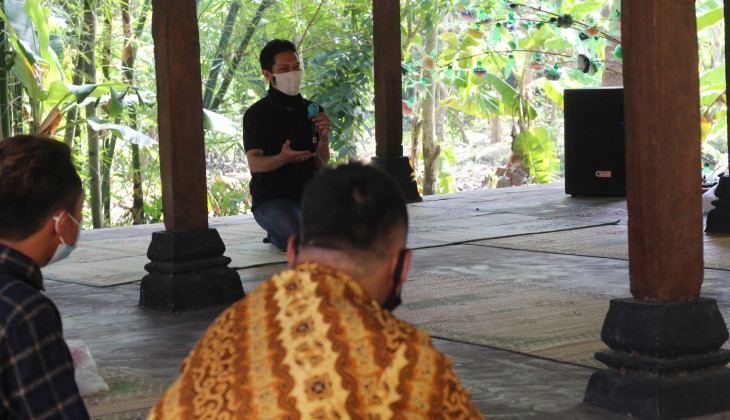 The Assistance Team for the Center for Economic Democracy Studies (PUSTEK) of UGM held a training on "TIK Class #1: Storytelling as the basis for Content Creation" in Banjararum, Kalibawang, Kulon Progo on Monday (5/7).
This activity was attended by 11 participants from 6 sub-districts in 2 districts in the Menoreh Hills area, particularly Gerbosari and Sidoharjo Villages which are part of Samigaluh and Banjaroyo, Banjarasri, Banjararum, and Banjarharjo Villages in Kalibawang District.
"Most of the participants are pursuing businesses in the tourism sector, such as Dewa Dekso Tourism Village, Tegal Pule, and Kampoeng Soember Loempang. Several other participants also started small and medium-sized businesses such as chips, catering, coffee, herbal medicine, to clothing businesses," explained Prof. Chess Sugiyanto as a member of PUSTEK experts team and member of the companion team on Wednesday (7/7).
He added some of the businesses run by the residents were businesses aimed to respond to the pandemic, although others were businesses that had been initiated several years ago.
The purpose of this training itself is to increase the capacity and competence of the community as well as to promote the life, natural resources, and environment of the Menoreh Hills Area through the use of information and communication technology facilities.
"The first step is to give participants an understanding of storytelling which is the basis for creating content on social media," he said.
In addition to Chess, the Assisted Village Assistance Team consists of Professor Lilik Soetiarso, Achniah Damayanti, Tondy Dwi Mulya Rahman, Ariyanto, Farrah Nafisa, and Almira Chairunissa.
The material presented in Class TIK #1 is about the importance of storytelling, the benefits, and objectives of storytelling, as well as the steps taken to make the stories interesting.
In addition to receiving material on storytelling, participants also had the opportunity to directly practice the material obtained in this training by telling anything they want to tell, be it about their lives, daily activities, and the businesses they are currently engaged in.
"The training participants were quite enthusiastic about telling stories. Several participants told about the clothing, herbal medicine, and chips business they are currently working on. Some participants brought their products to be introduced and used as storytelling materials," explained Catur.
This activity is part of the Information and Communication Technology Training held to promote and improve the standard of living of the people in the Menoreh Hills Area.
The training agenda is a continuation of a series of Community Service Grants Programs Based on UGM Assisted Village Development for the 2021 period. As a continuation of the storytelling class, PUSTEK UGM plans to hold a story writing class.
"We hope that this training activity can continue and provide benefits for the people of the Menoreh Hills Area," concluded Catur.
Source: https://www.ugm.ac.id/id/berita/21337-pustek-ugm-beri-pelatihan-pembuatan-konten-bagi-pelaku-usaha-di-kulon-progo